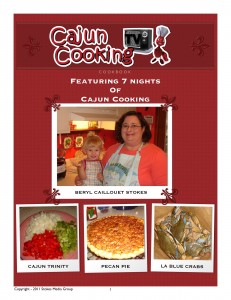 Beryl has created a 16 page Cajun Cooking Recipe Book with 7 of her favorite Cajun recipes plus her favorite desert recipe.
This FREE Cajun recipe eBook is full of photos and how-to videos to make preparing these Cajun dishes for your family a breeze.
We have also created a "Recipe Club" newsletter for  you so that you will get all of our latest Cajun and Southern home-style cooking recipes by email so that you will never miss another easy to make and great tasting  recipe.
Just fill out the form below, and you'll get instant access to the "7 Nights of Cajun Cooking" recipe book, and you'll be subscribed to the recipe club newsletter.
Please rest assured that we will never give your email address to anyone else, nor will we pester you with too many emails and pitches.
It will be very easy to "unsubscribe" at any time with a link at the bottom of each and every email we send you.
I hope you enjoy the new "7 Nights" recipe book, and we are working on more great recipes and other goodies for you.
We really appreciate you visiting our website and watching our videos, and hope to hear from you soon.
(Please leave us your comments – good or bad – in the comment box at the bottom of every recipe post.
Thanks again,
Beryl Stokes
Cajun Cooking TV

Category: Cajun Recipes