Fresh Corn Cut Off the Cob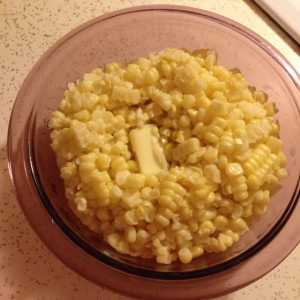 I had never given any thought to cutting corn off the cob, but just about every time we had corn on the cob, Mike would reminisce about how his Grandma in Pensacola would always cut it off the cob for his Grandpa every Sunday when they had their after church dinner.
Mike would always ask her to cut some for him, and he developed a real liking for it.
One Saturday night when we were cooking supper, Mike suggested we give it a try so we did…
And all I can say is, "WOW!" It is awesome.
I don't think we've eaten corn on the cob since then, we always cut it off now. If you like corn out of a can, fresh corn cut off the cob will be a real treat for you. You may never go back to the canned stuff.
It may seem like it would be a hassle to make, but it's pretty easy.
If you're watching your waistline, one ear per person will probably do – but believe me when I tell you there won't be any leftovers.
We usually go with two ears per person, because most people want seconds, and we love to have some left over anyway. It never goes to waste!
By the way, fresh corn is always best, but this works with frozen corn on the cob also in case fresh corn is not available to you. Be sure to cook the corn according to package directions if using frozen corn.
So, here's what you need to do:
Ingredients:
1-2 ears of corn per person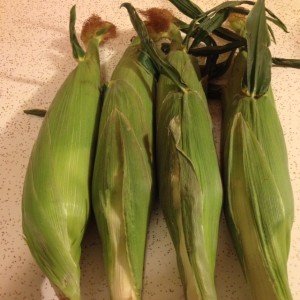 How to Cook It:
Shuck your corn and clean off the silky strands just before you're going to boil it.
If there is a stem on the corn, cut it off so the base of the ear of corn is flat.
Bring water to boil in a pot large enough to hold your corn on the cob.
When the water begins to boil, add the corn to the boiling water.
Bring the water back to a boil, and boil the corn for 10 minutes (or less).
NOTE: Some people boil their corn for as little as 3 minutes. This is totally up to you. We boil ours for 10 minutes and it is fine for us.
Remove the corn from the water with some tongs or something like that.
Take one ear at a time and cut off the kernels.  We cut ours on a platter that we eat boiled seafood on (see photo).
Put all of your kernels in a bowl, add butter and a little salt, and serve it up.
You may never want to eat corn out of a can again!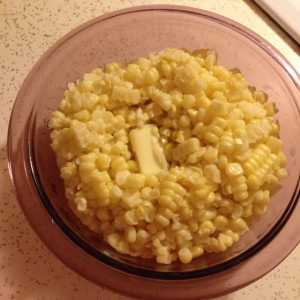 Category: Side Items