Red Beans and Rice Recipe
Red Beans and Rice is as Cajun as white on rice. It just don't get more Cajun! Red beans and rice is a Thursday dish, because it was usually the day before payday (Friday) and folks were usually broke by then. You can feed a big family a fine meal on a just couple of dollars with the Cajun classic red beans and rice recipe.
A bag of Camellia red beans, a ham hock or some sausage, and some rice and you've got a dinner fit for a king. When it comes to Cajun cooking, red beans and rice is in the Top 5 all-time Cajun cuisine favorites.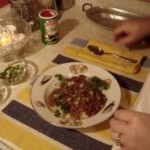 For your complete recipe with video, go to:
How to Make Red Beans and Rice Recipe and Video
.
Category: Cajun Recipes