Hoppin' John
How to Make Hoppin' John. I was born and raised in Louisiana Cajun cooking country, and my husband is a "cracker" from north Florida transplanted to Cajun country, and neither of us had ever heard of Hoppin John when a subscriber of our Cajun recipes emailed us and asked us to make it and publish it on our Cajun Cooking blog.
So, not wanting to disappoint a loyal reader, I went to Google to see just what in the world Hoppin' John was. Black eyed peas is what I found out, laugh out loud. We call Hoppin' John black-eyed peas around here, and sure I know how to cook blackeyed peas! We've since asked around, and found that plenty of our friends and relatives knew what Hoppin' John was, they just didn't call it that.
Hoppin' John is more of a "low country" of South Carolina and Georgia southern food term than a Cajun recipe term. Anyway, I may be prejudiced, but I do think we make Hoppin" John, or black eyed peas, whichever you prefer to call it, pretty darn good. So, here's our Hoppin' John recipe, hope you enjoy it.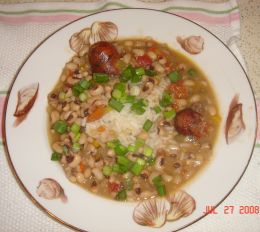 For your complete recipe with video, go to:
How to Make Hoppin' John Recipe and Video
.