Shrimp Creole Recipe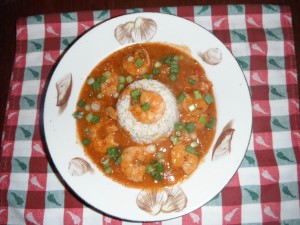 Shrimp Creole is another favorite Cajun/Creole dish.  Traditionally, Shrimp Creole is a Creole recipe from New Orleans.  Shrimp Creole only differs slightly from Shrimp Etouffee in that tomato sauce is added to the Roux and great big jumbo Gulf of Mexico shrimp of course. When it comes to recipes for shrimp, this is about as easy a Cajun recipe as you'll ever find. Let's get cooking!
Shrimp Creole Ingredients
2 pounds large shrimp (peeled and de-veined)
2 (8 ounce) cans tomato sauce
1 (10 ounce) can Rotel tomatoes
1 stick of butter
½ cup all-purpose flour
4 cups Cajun Trinity with minced garlic
6-8 cups vegetable stock (or chicken stock)
1 cup rice
Olive oil
Green onions chopped for garnish
Tony Chachere's Creole Seasoning
Tabasco sauce to taste
How to Make Shrimp Creole
As with all Cajun recipes, you start with a Roux. But, first we need to sauté our Cajun Trinity and garlic.
Place 2 tablespoons olive oil in a large Dutch oven or 6 quart pot.
On medium heat, sauté the Cajun Trinity until vegetables are wilted and tender.
Pour into a side bowl and set aside.
For the Roux – melt 1 stick of butter on medium heat.
Gradually add ½ cup flour and stir constantly until a light golden color.
Carefully mix in Cajun Trinity and stir as to not stick or burn.
Add 6-8 cups stock. Bring to a boil. Lower the heat to medium and simmer for 15 minutes.
Add Rotel, tomato sauce, and Tony Chachere's Creole Seasoning.
Simmer another 10-15 minutes.
Add shrimp. Cook another 10 minutes.
Make rice according to package directions.
1 cup rice + 2 cups water + 20 minutes = cooked white rice.
Serving Suggestions for Shrimp Creole
Serve Shrimp Creole over mound of rice in a deep plate or bowl. Garnish with chopped green onions. Also, Shrimp Creole is wonderful with crusty French bread for dipping.
Remember cooking from scratch is so easy and very rewarding. Bon Appétit!

Category: Seafood