Crawfish Concoction on New Potatoes
I believe I've mentioned that it is crawfish season here in Louisiana, and Beryl loves those critters more than even strawberries, so she's been cooking them up several times a week.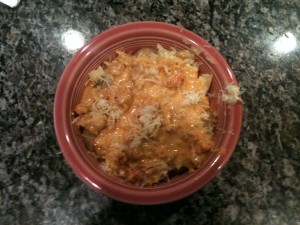 So Sunday she picks up a pound of fresh tails to cook, and I tell her I need a break from the etouffee.
Well, I was hoping for a steak with French fries, but Beryl is dead set on the crawfish, so crawfish it is.
I tell her I'd like 'em fried up, but she's not having any of that. So I just headed to my office to read and leave her to do whatever she is determined to do with those crawfish tails.
Well, about twenty minutes later she calls me to supper, and I go in the kitchen and what I find I can only describe as a "Crawfish Concoction".