What Is Cajun Cooking?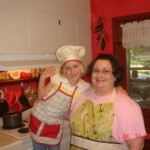 Cajun cooking began when a group of people known as the Acadians were forced to leave their French-Canadian homes by boat to the United States after the British took over their homeland. Because many U.S. states were unwelcoming to foreign people, the Acadians took up residency in Louisiana where they were accepted.
The Acadians made use of the lands of Louisiana by planting rice and sugarcane in the fields and fishing for shrimp, oysters and crawfish in the rivers. They became friends with the Native Americans, Africans and English, despite being submitted to a new and strange land.
Because the English found if difficult to pronounce the word Acadian, the "A" was eventually from the name and the "D" was pronounced as a "J." The result was the word, Cajun.
While in the beginning, the recipes did come from the Acadians and their native homeland, it was actually a combination of heritages that created true Cajun recipes. Everyone from the English to the French to the Spanish, to the Africans, added to what has made Cajun cooking the flavor it is today.
Cajun Cooking is Spicy Not Hot
When people think of Cajun cooking, they often think of spicy food. While it is true that Cajun cooks use some spices like Tabasco pepper sauce in their dishes, most Cajun recipes are a lot milder in pepper than the way some replicated Cajun dishes are made.
True Cajun dishes actually contain a good amount of various seasonings verses just a lot of spicy pepper. It requires a perfect blend to truly create an authentic Cajun dish. Many true Cajun dishes also contain a combination of bell peppers, onions and celery.
Cajun Cooking Ingredients
Other important ingredients that are most often used in Cajun cooking include, rice, okra, sausage, chicken, ham, crawfish, shrimp, andouille and oysters. These ingredients are then turned into the dishes many of us know and love like, jambalaya, etouffee and gumbo.
Cajun Cooking in Cast Iron Pots
For many Cajun cooks, a black cast iron pot is used when cooking. The pot is usually one that has been handed down by a family member and was once hung over an open fire. Not only does the precious heirloom create authenticity in Cajun cooking, it also carries a good amount of iron that is absorbed into the food.
While many other states and even some countries try to imitate Cajun cooking, most often the results are nowhere near a true experience. If you really want to experience the authenticity of true Cajun cooking, a visit to south Louisiana is highly recommended.