Lucy Buffett's LuLu's in Gulf Shores AL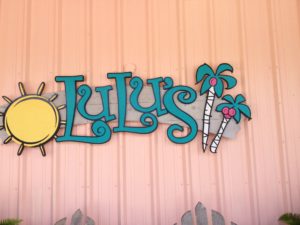 Bucket List item crossed off the list – go to LuLu's in Gulf Shores, Alabama.
Mike has wanted to check out the Orange Beach and Gulf Shores, Alabama area for some time now, however for the past 10 years we always find ourselves in Panama City Beach, Florida because we love the Holiday Inn Resort there, plus all of great places to eat.
Orange Beach is a bit shorter drive from Baton Rouge, so when Jimmy Buffett announced he was doing a show there, we knew it was time to hit the road on over to Alabama…
See the Jimmy Buffett show, check out Orange Beach and Gulf Shores, plus go to Jimmy's "Crazy Sista" Lucy Buffett's world-renowned LuLu's restaurant and entertainment complex.
While known for great food, LuLu's is way more than just a restaurant, you've got to see it to understand what I'm talking about…
So, with my mom and two nephews loaded up in the Tahoe, we headed off to new adventures.
My mom and nephews had been to Orange Beach and Lulu's restaurant before, but it was all new to Mike and me.
After settling into our condo at The Wharf Marina, we headed to LuLu's for dinner.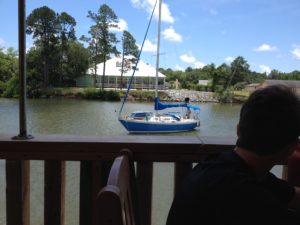 The place is huge and located on the Intracoastal Waterway on the Gulf Shores side.  The complex has plenty of parking for the huge crowds of people that flock to LuLu's.
This particular night was Memorial Day evening.  We quickly found a parking spot up close as there was a parking attendant on a Segway guiding patrons to open spots.  Very cool and first class in my book.
There were already loads of people sitting around, looking around the merchandise shop, playing in the arcade, and kids playing on the climbing rope contraption (there's one for little kids and one for bigger kids).
We were told there would be a two hour wait.  With that we settled that it must be worth the wait if all these other people were waiting as well. Fortunately, we were seated in about an hour, I'd say.
LuLu's does keep the kids busy while you wait.  There are several things to do for the kids that do cost extra, but they sure have a lot of fun.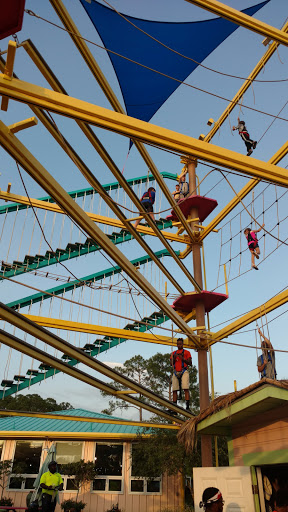 My nephews ventured on the "Mountain of Youth" which is a climbing rope tower of paths, rope bridges, tight rope, and other obstacles.
The boys were strapped in a harness and away they went until we had to call them down for dinner.
Mike and Mom found ice cold margaritas at the several bars around the complex.
Being just the end of May, the restaurant was fully open air seating and with the sun going down it was very comfortable temperature.  I don't do hot.
Our pleasant server came by immediately and took our drink orders.  Then it was time to order.  Oh my goodness, what shall we have.
The menu consists of traditional southern appetizers, gumbo, salads, seafood, and chicken dishes.
We ordered a variety at our table – fried oysters and shrimp, giant hamburger, a colossal pile of fried blue crab claws, and Greek salads.
Mom and I each ordered, the Greek Salad in the "Big Ole Salads" choices, which incidentally could feed a table of four, that consisted of cold Romaine lettuce, Feta cheese, Kalamata olives, pepperoncini, cucumber, purple onions, tomatoes, and served with a perfect Greek dressing.
That big ole salad was cool and refreshing in the heat of the early evening sunset.
The boys all had meat or seafood.  Caleb had a gigantic half pound hamburger called Crazy Sista's Version that is seasoned with LuLu's own seasoning blend.  I don't know how a 15 year old boy can eat so much food.
Lil Will had his favorite Fried Blue Crab Claws.  The Crab Claws are just the big claw meat of the crab or sometimes called the crab fingers.  This is delicious sweet meat.  Normally an appetizer, Will made it into a platter.
He did a pretty good job eating the mound of claws.  Of course, mom and I helped a little.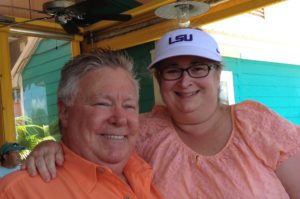 Then there is Mike.  Mike always gets the same thing where ever we go for seafood.  He is always in search of the best Fried Shrimp or Oyster Po-boy.
Under the Sandwiches section there are Fish, Shrimp, and Oyster Po-boys dressed with lettuce, tomato, purple onion, sweet pickles, and served with a bed of French fries.
Most restaurants serve Po-boys with mayonnaise, so if you don't like mayo you best ask for no mayo.  Mike usually asks for a tub of cocktail sauce instead.
The bread was soft and easy to bite through to the perfectly fried oysters that were a good size for Po-boys.  Mike ate every last flaky crust and bits of oysters.
We had no room for dessert, but if I had I would have tried the Key Lime Pie declared to be "The Best on the Coast" and the Bread Pudding made with Krispy Kreme donuts.  Can you say Yum?  Maybe next time.
Needless to say, we went back again a couple days later in our trip to do it all over again.  We had Fried Green Tomatoes, Fried Okra, Fried Shrimp Platter, Chicken Fingers, and the boys split a Crab Claw basket.
All in all, LuLu's is a must do experience if you are visiting the Orange Beach and Gulf Shores area.  It is filled with entertainment, activities, and great food.  I even played Skee ball in the arcade.
LuLu's now has a second location in Destin, Florida. We'll definitely be checking it out soon.
If you're wondering why we don't have more pictures of the restaurant and our food, it is mainly because we didn't know we were going to write this review at the time… The good news is, we'll have to go back and take some pictures.
CLICK HERE to view Lulu's complete menu
Beryl
P.S. By the way, the Jimmy Buffett show was fantastic!

Category: Reviews