Beryl's Homemade Cajun Seasoning (Salt-Free)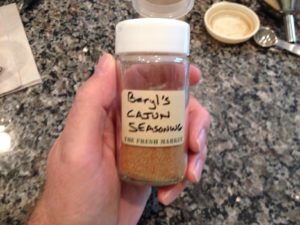 Everybody knows that good Cajun food is "highly seasoned", or "spicy", but do you know what "highly seasoned" and "spicy" really mean? Most people think that "spicy" means "hot" – as in lots of red pepper or like a jalapeno pepper. Not so fast…
In Cajun and Creole cooking, "highly seasoned" and "spicy" means we use lots of seasonings (spices) to add lots of flavor to our dishes. They are not necessarily "hot with pepper".
As you go through our recipes, you'll notice that many (if not most) call for Cajun Seasoning, or "Tony's".
You can either buy your Cajun seasoning at the grocery store, or you can make your own. We're going to offer you three options…
Option One: The easiest option.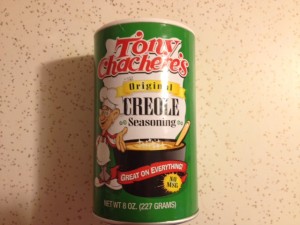 Buy a canister of Tony Chachere's Original Creole Seasoning. This is what we use.
NOTE: Tony's does contain a lot of salt. However, they do make a salt-free version if needed.
Option Two: The bare minimum.
Salt
Black Pepper
Garlic Powder, granulated
You can get by with just salt, pepper and garlic powder if you're resources are limited.
Option Three: Make your own salt-free Cajun seasoning.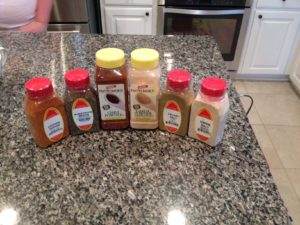 If you can't find Tony's, and you really want some Cajun/Creole seasoning, you can make your own. This is a recipe we use, and you can feel free to add to it, or not use everything we use…
Ingredients:
1 teaspoon cayenne (red) pepper
1 teaspoon black pepper
½ teaspoon garlic powder, granulated
½ teaspoon chili powder
½ teaspoon ground onion
½ teaspoon ground celery
½ teaspoon ground bay leaves
Directions:
1. Mix all the ingredients in a glass jar or food storage container.
2. Stir well with a spoon to blend the spices together.
3. Put lid on container and shake to blend even more.
4. Use as needed. Shake jar before each use.
This recipe is for a small amount to try. If you like it, simple increase all of the quantities proportionately to make a larger batch to use regularly. You won't have to buy Cajun seasoning ever again.
Beryl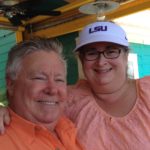 Category: Other Recipes